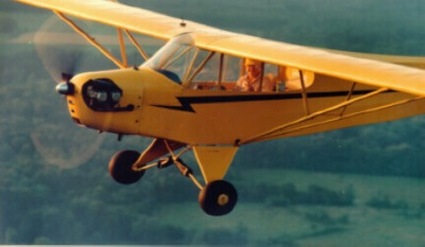 History
A Barnstormers' Paradise A Brief History...
---
The Red Stewart Airfield in Waynesville, Ohio is a family owned and operated grass field. The airport and the Stewart family are dedicated to the preservation of grass roots aviation.
The field was established by Emerson "Red" Stewart in 1946. The airport is now owned by Red's oldest son, Emerson Jr. (Cub), and his wife Cathy.
Many people are born to live a normal life, work a normal job. Red Stewart was
not
one of these people. Red was the last of a dying breed - he was a
Barnstormer
.
To Red Stewart the Piper Cub would become an extension of his personality. He went beyond what any factory test pilot at Piper thought possible and did what many would never dare. In-flight he would disconnect the control stick, throw it out of the door, and land the airplane with power, trim, and rudder. While in flight he would sit on the wing strut outside of the airplane, flying the aircraft from there. When doing loops, he would touch his landing gear on the ground at the bottom of the loop. While working for Frigidaire in the mid 40's, Red would fly to work and land in the parking lot instead of drive.
There are many other similar feats that were testaments to Reds' prowess with the yellow Piper. These feats are not just myths, either. There is actual news footage of some of these "maneuvers". His famous statement was
"Don't ever do this,... but if you do, here's how".
Late in 1945 Red fronted some money to his father for the purchase of a 108 acre farm 2 miles south of Waynesville, Ohio. Red bought in with the understanding that 40 acres of the wooded, unfarmable portion would be deeded to him separately. If Red was going to do what he loved doing, he was going to need an airport. When the plant manager at Frigidaire told Red to stop landing in the parking lot with his airplane, Red quit the plant, got a box of dynamite and a bulldozer, and started clearing that 40 acres. With the help of his wife Irene and some friends, the airport was completed at the end of 1946.
Red bought a brand new Piper Cub from the Lock Haven factory at a discount, becoming a certified Piper dealer. The airport, his business, and his prowess with the yellow Piper grew, as did his sons Emerson Jr (Nicknamed "Cub", of course), Steve, and David. All of Red's sons began flying in their early teens. Red flew an amazing 18,000 hours teaching, cajoling, and breathing flight. Even some airline pilots flying across oceans for years don't have this much flight time.
Cub Stewart is an accomplished pilot and flight instructor. He has done a lot of aerobatic, vintage aircraft, and war bird flying. He is also an Airframe and Powerplant mechanic (now called Aviation Maintenance Technician) and Airworthiness Inspector, with a specialization in older style fabric covered airplanes. He was voted Aviation Maintenance Technician of the year for the whole country in 1991. The restored L-4 and L-6 Observation planes from WWII that are hanging in the US Air Force Museum were restored by Cub and his wife Cathy. Cathy is also a certificated AMT and a wizard on fabric covered aircraft.
Emerson III, Cub and Cathy's son is a flight instructor and AMT. Flying since he was 13, Emerson has over 10,000 hours, mostly in tailwheel aircraft. He has been performing in airshows since 1998. Emerson resides on the field with his wife Kim and two children, Audrey and Emerson IV (Ace). Their daughter Sara also works at the family business and is an accomplished pilot. She resides on the field with her husband Chris and sons Ryan and Jonah.
As you can see, Red's kids and grandkids are continuing the dream he began over 60 years ago, flying Cubs out of what is now Red Stewart Airfield. He was a Barnstormer in the truest sense of the word, and although he has taken that flight west to be with the Lord, we shall miss him.
Family History (Thanks to aviation writer
Steve "Wild Bill" Hanshew
)